140th Birthday Carnivale Ball - Tickets now on sale!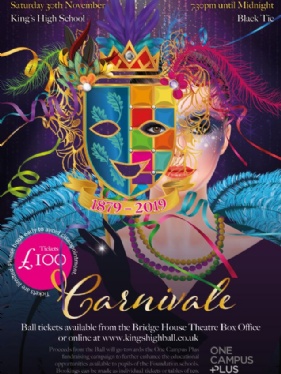 Our 140th Birthday Celebrations culminate with a spectacular Ball on Saturday 30th November 2019!
Join us to celebrate 140 years of King's High School, and support our One Campus Plus campaign.
The Carnivale Ball will be held in the grounds of the new King's High School on Banbury Road on Saturday 30th November 2019, from 7.30pm to midnight.
Proceeds from the Ball will go towards the One Campus Plus fundraising campaign to further enhance the educational opportunities available to pupils of the Foundation schools. There will also be a silent auction of exclusive items taking place throughout the evening.
Parents and friends from all Foundation schools are welcome to attend.
Tickets cost £100 per person to include; welcome drinks, a three-course dinner and spectacular evening entertainment.
Bookings can be made as individual tickets or tables of ten (preferred). Bookings of fewer than ten will be accommodated with other bookings to form a full table. Please email the Landor Association address below with any questions or requests regarding table allocation. All bookings will be on a first come, first served basis. A reserve list will be also be held. Please email khs-landorassociation@kingshighwarwick.co.uk with any questions.
We are grateful to the Ball Committee who are kindly volunteering their time and expertise to help organise the Ball. If you are interested in finding out more about how you can help with the Ball, please email the address above.
We are also looking to partner with a number of organisations to sponsor or advertise at the Ball and maximise our fundraising efforts. Ways you can be involved include:
Sponsorship packages
Advertising
Donation of prizes for silent auction.
Further details will be available soon. For initial enquiries regarding any of the above please contact campaign@warwickschools.co.uk