141st birthday message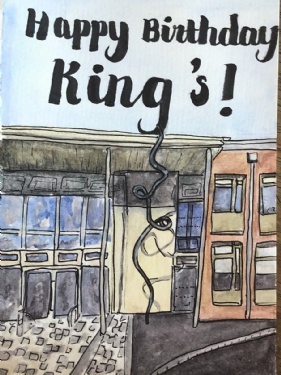 A message to the School community from the Head Master, Mr Nicholson, on the occasion of King's High's 141st birthday - 29th April 2020.
Dear School,
Today, 141 years ago, King's High opened its door for the very first time. The first pupils and their teachers, started on a journey which has resulted in the exceptional, much loved and admired, school of today.
Each member of the school community of today - each one of us - stands on the shoulders of those first pioneers and their successors. We are part of a living tradition, with values which are passed from one generation to the next. It is this ethos which binds us together, and makes us ever stronger, whatever challenges come our way.
Just like those the first pupils (all 21 of them) and their teachers, we, too have been pioneers. When the history books are written about King's and the academic year 2019-20, they will tell of our amazing adventure in moving to our new school buildings, but also of the building of our new, current virtual school, sustaining us through the Covid-19 crisis.
The creation of our online school has taken ingenuity, resilience, trust, and expertise. These are characterises which we see every day in our normal school experience, but which now have come to the fore in ways we could barely have imagined just a few short weeks ago, and would certainly have astonished our predecessors.
It is when times are tough that the strength of relationships are most severely tested. These tough times have undoubtedly tested us, individually and collectively, but throughout the upheavals over the last weeks, what has shone through as a guiding light has undoubtedly been our spirit. Whether that has been in transforming the way in which lessons have been delivered, reaching out to the most vulnerable members of our wider community, sharing our friendships, or finding ways to continue to develop our passions, our gifts and our talents, which have such a powerful impact on others, everyone has dug deep, and found an extraordinary well of resolve, creativity and kindness.
In the midst of everything that is happening, it can be hard to step back and reflect on what collectively and individually has been achieved. Our birthday today is the perfect opportunity to do so, because despite all the obstacles which have been put in our path, this a school - currently an online school - of which anyone would be proud to be a member: whilst we may be at home, our community truly is still together.
Happy Birthday, King's High.
Spiritus Reget.