Keeping in touch during lockdown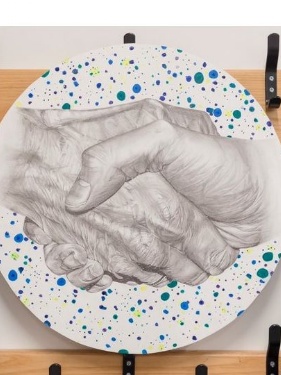 When not in the throes of a global pandemic, some senior pupils have been visiting hospitals and care homes as part of a wellbeing initiative and their Friday afternoon activities. Denied the chance to do this during various lockdowns, some of the girls telephoned our senior Old Girls over the age of eighty to spread a little lockdown cheer. Then it was decided that these ladies might like something tangible through the post, so the idea of sending cards and letters to Old Girls over eighty and retired staff members was born. Although some senior Old Girls have embraced the new technology of the internet, not all have email, so postal contact was deemed to be more inclusive.
We have some truly talented artists in the school and many cards were decorated with beautiful artwork, including views of the Smith Street site. Some included photographs with their letters, which showed genuine concern for the wellbeing of those who might live alone or who may be unable to go out. Most of the current girls were keen to tell their earlier counterparts about the new buildings, and how we have retained some of the Smith Street names like Landor and Chapel. Nearly all wanted to invite the Old Girls to visit the Banbury Road site after the pandemic.
The feedback from these cards and letters has been amazing. An Old Girl from the 1950s said her beautifully illustrated card was a 'very nice and cheery surprise'. A retired teacher at school in the early 1950s said the campaign was 'a great thing to do and it made me happy.' One of her contemporaries 'received a beautifully hand painted card from a pupil with a message wishing me well in these strange times. What a lovely idea! I hope you can convey my thanks to her.'
A 94 year old Old Girl, who joined the school at the same time as Miss Whittlesey in 1938, said 'I was so pleased to receive this lovely letter, I was really touched by it. […] Whoever thought of the letter writing should be congratulated. It is a wonderful idea.'
Overall, over 170 Old Girls and over thirty retired staff received cards and letters from current pupils in the school.