The very first day, 1879
The King's High School for Girls, Warwick, opened its doors for its very first lessons on Tuesday 29th April, 1879. The month had been unusually dry, and its temperatures fairly cool. Queen Victoria had reigned for forty-two years, and Benjamin Disraeli was Prime Minister. 1879 was also the year that gave us milk in glass bottles, the first ever Blackpool illuminations, the birth of Blackwell's Bookshop in Oxford, Doncaster Rovers Football Club, the Calcutta Cup, and, six days before our birthday, the Shakespeare Memorial Theatre.
It would be unthinkable today to appoint someone without a university degree to lead an award-winning girls' school, but King's High's first headmistress, Miss Mary Janet Fisher, did not possess one.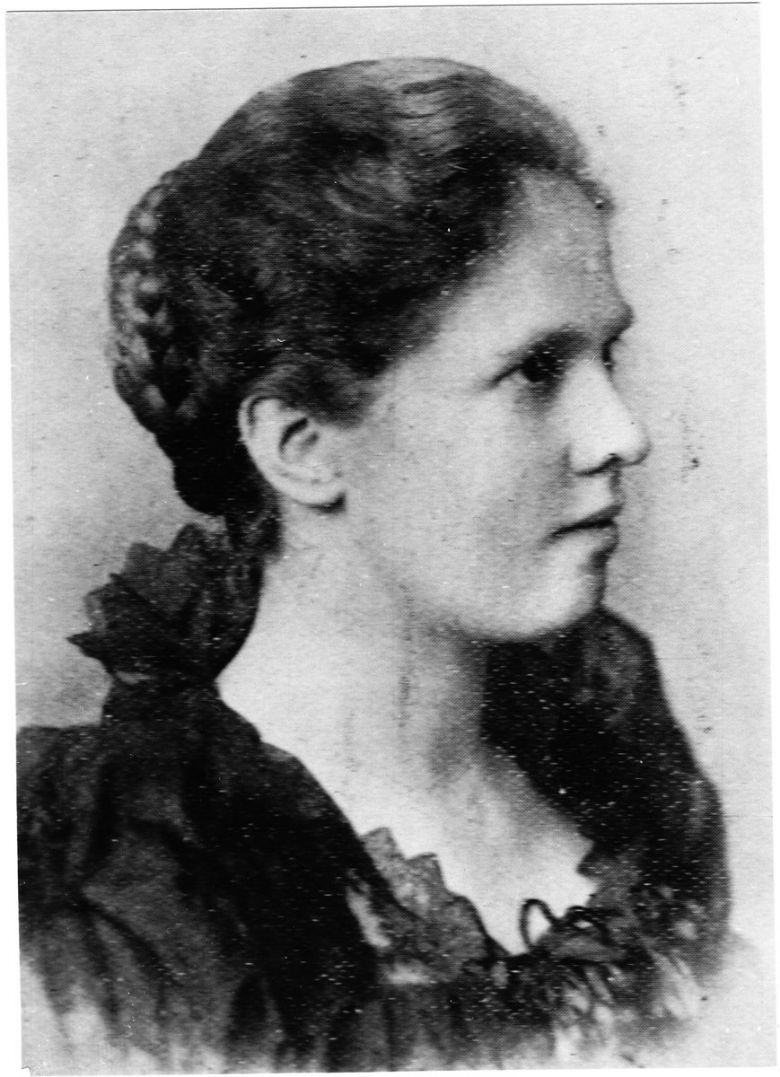 In the 1870s, few universities awarded degrees to women. The first British university to do so, Edinburgh, had seen its initial seven women graduates only ten years earlier, and some universities would not allow women to graduate for another seventy years. However, Miss Fisher was about as highly qualified for her post as a woman could have been in 1879; she held a Cambridge University Higher Certificate for Women, and had been second mistress, or deputy head as we would now call it, at West Ham High School for Girls, which we strongly believe to be her old school. In spite of her tender years, for Miss Fisher was still only 22, she beat 70 other candidates for the post, which carried a salary of £100 per annum plus an extra pound for each girl in the school.
The school curriculum was to feature 'Reading, Writing, Arithmetic, Geography, History, Natural Science, English Grammar, Composition and Literature, Latin or French, Drawing, Vocal Music, Needlework, Domestic Economy and the Laws of Health'. Natural Science probably included Botany and some Zoology, but there was no Physics or Chemistry … yet, and Mathematics was limited to Arithmetic only. An entrance fee of 5/- was payable, in addition to termly fees of £3 for girls within the Borough of Warwick aged ten and under, £4 for Warwickians over ten, and £4 and £5 for the same age groups originating from outside the County Town. Prospective pupils had to pass an entrance test on Monday 28th April in Reading, Writing and Arithmetic, set by the headmistress and graduated according to age. This was probably more to gauge the pupils' level of education than to set a high academic selection bar, as today. Compulsory formal education for all had only been a legal requirement since the 1870 Education Act a decade earlier. Primary education for girls would have been by no means standardised. Academic secondary education for girls was in its infancy. What an eleven-year-old girl from a working family had learnt at a council primary school or church institution might not have been on a par with the knowledge of a governess-taught upper-middle-class girl.
The East Gate House, now known as Landor House, was mooted as the first home of the new King's High School for Girls. Hitherto it had been a private dwelling, an inn, the birthplace of the poet Walter Savage Landor, and, in the 1850s, a small boarding school for girls, after the Landor family had ended its tenancy. Latterly it had been used by the 'modern', as opposed to 'classical', Middle School section of the King's (boys') School, who would later join the classical section at the new purpose-built Myton Road site, via a stint at school premises in The Butts. (History would repeat itself 140 years later when the girls followed onto the site across the river).
Two ground floor rooms of Eastgate House were to be classrooms, with Miss Fisher and her staff using the upstairs rooms, including the Head's apartment. There were no dedicated rooms for certain subjects like Domestic Economy, Natural Sciences, and Drawing, and the music had been limited to 'vocal' only. However, less than a week before the school opened, Miss Fisher managed to coerce money from the Governors to purchase a piano for the girls, 'at a cost not exceeding £25'.
Miss Fisher and her assistant mistress, Miss Browning, presided over the school's original 21 girls in East Gate House Hall at 9.30 a.m. on Tuesday 29th April, 1879. The 'list of scholars' names' recorded in Miss Fisher's hand makes interesting reading, since if we delve into their backgrounds, we find that the girls were mainly the daughters of clerks and shopkeepers. (One girl lived in the Warwick Union Workhouse, but luckily not as an inmate; her father was the workhouse master.) Academic education for teenage girls was a new thing. It was still possible for a child to leave school before the statutory leaving age of thirteen. Whereas the daughters of working families might have to leave school at a young age in order to earn a wage to supplement the family finances, those from the upper middle classes and above would have had governesses at home to teach them accomplishments for marriageability, rather than academic disciplines. So it was the 'upwardly mobile' lower middle classes who were most supportive of this brand new venture.
The names of the first 21 girls were Louise Alliban, Mary Anderson, Mary Bettridge, Emma Best, Alice Best, Janet Brown, Mary Chick, Florence Cramp, Ada Cramp, Adeline Garnham, Emily George, Nelly Newman, Ann Radford, Annie Reading, Jane Reading, Edith Smith, Margaret Strickland, Emma Styles, Annie Timmins, Minnie Wincott and Annie Woodward, whose ages ranged from 5 to nearly 15. All came from small schools run by the likes of 'Miss Smith, Miss Lockett or Miss Summers in Warwick and Leamington.
What facilities would the school have had then? Electricity, let alone radio, television, telephones and computers, was not yet commonplace in British homes. Gaslights illuminated the darkened streets of Warwick, and trams still made their journey to Leamington around Eastgate's narrow arch. The school day ran from 9.30 a.m to 12.30 p.m., and then from 2.30 to 4.30, with a half holiday of Wednesday and Saturday.
By the end of 1879, there were also girls attending the school from other nearby towns. Some of the pupils had come from National, i.e. state, schools. By 1880, the two Crimpton sisters joined the school from Barford, in addition to a girl from Worcester, and some who had been taught at home by private tutors. The following year, Ada Phillipson from Kingston, Jamaica, became a pupil. At the time, the terms were called 'Michaelmas' (Autumn), 'Lent' (Spring) and 'Trinity' (Summer).
Yet from modest beginnings, the school would flourish as rapidly as Jack's beanstalk. The following term, Mr Deadman, a local church organist, had been engaged as a piano teacher, so our first male teacher was appointed as long ago as 1879! Owing to the swift expansion of pupil numbers, a further assistant mistress, Miss Olive Baly, was employed half way through the term. At this point, local ladies came forward with requests to run boarding houses for the school, subject to managerial approval.
With the construction of the 'new' school dining room still several decades away, Miss Fisher's girls would carry their lunches in dishes and pails to be heated up at lunchtime by Mrs Greenhalge, who was employed by the school for this purpose, but who actually worked at the Porridge Pot in Jury Street, (now Pizza Express). Miss Greenhalge also cooked for boarders, running a boarding house in the attics of the Porridge Pot, now concealed by a false ceiling.
The Victorian era was one where it was not usual for women to have paid work outside the home; the first 21 girls' mothers were listed as doing 'unpaid domestic duties' on the Census of 1881, or with no occupation at all. Some of their families had live-in servants, which was quite normal even among the lower middle and upper working classes of the mid-Victorian age. It was not uncommon for such a family to employ a live-in servant while at the same time sending one of their own daughters out to serve another family. What great sacrifices did these lower middle-class families had to make in order to send their daughters to school? What would their friends and neighbours have said? 'What's the point in educating girls? They're "only" going to get married!' Victorian marriage for this class of women meant child rearing and running a home. So our Founders and Benefactors in 1879 were doing groundbreaking work for feminism, for women's lives and opportunities. Women would henceforth have choices, even if Victorian society was slow to embrace them. When 21st century King's High girls consider their futures in medicine, or law, or engineering, they owe their chances to the 'new breed' of educators who pioneered girls' academic education in the 1870s.
Polly Beidas