Our Foundation Welcome Back Weekend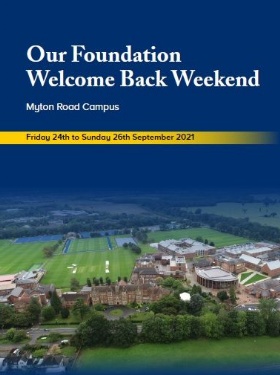 Friday 24 to Sunday 26 September 2021
Our Landor Community is warmly invited to join in our Warwick Independent Schools 'Foundation Welcome Back Weekend' from Friday 24 to Sunday 26 September. During the weekend there will be a range of activities, events and refreshments for families and staff past and present, and Old Girls and friends to enjoy, including:

Campus Treasure Trail
Download the App (on the day) and go on a self-guided tour to explore the outside of the campus at your leisure.
Sat 25 Sept, 09:00-17:00.
Old Girls' Coffee Morning and Afternoon Bar
Sat 25 Sept, 10:00-12:00 Coffee Morning, 12:30-16:00 Afternoon Bar
The King's High Dining Room will be open as a base for Old Girls to meet. Enjoy a drink with friends and fellow Old Girls and explore the school at your leisure.
Complimentary BBQ Lunch
Sat 25 Sept, 12:30-14:00, available outside Warwick School Dining Hall for all.
Meet the authors of the King's High and Warwick Prep's latest book
Mrs Polly Beidas and Mrs Jennifer Edwards will give a talk based on the recently published history of King's High and Warwick Prep School, Of Mulberries, Ilex and Acorns.
Sat 25 Sept, 15:00-15:45
Rounders tournament
OGA committee members Camilla Hatherly and Zoe Pearman (both KHS 2005 – 2012) will be organising an Old Girls' rounders tournament at the sports field. So dust off your bat and sign up here if you'd like to play. (By the way, you're not too old! 'Rounders England' has players registered between the ages of 16 and 67, and probably older ones who aren't registered.) There is also touch rugby on the Warwick School 3G pitch (sign up on the day).
Sat 25 Sept, 14:00-16:00
Massive Messiah
Come and sing… or listen to a performance of selected choruses
Sun 26 Sept, Warwick Hall (see brochure for times)
PROGRAMME AND BOOKING
Download the full weekend programme bel
All events are free. Payments for drinks are card only.
If you would like to attend any of the events or activities, please sign-up at www.foundationwelcomeback.com.
Please note that the weekend is dependent on Covid mitigation strategies in place at the time and every activity is subject to change.